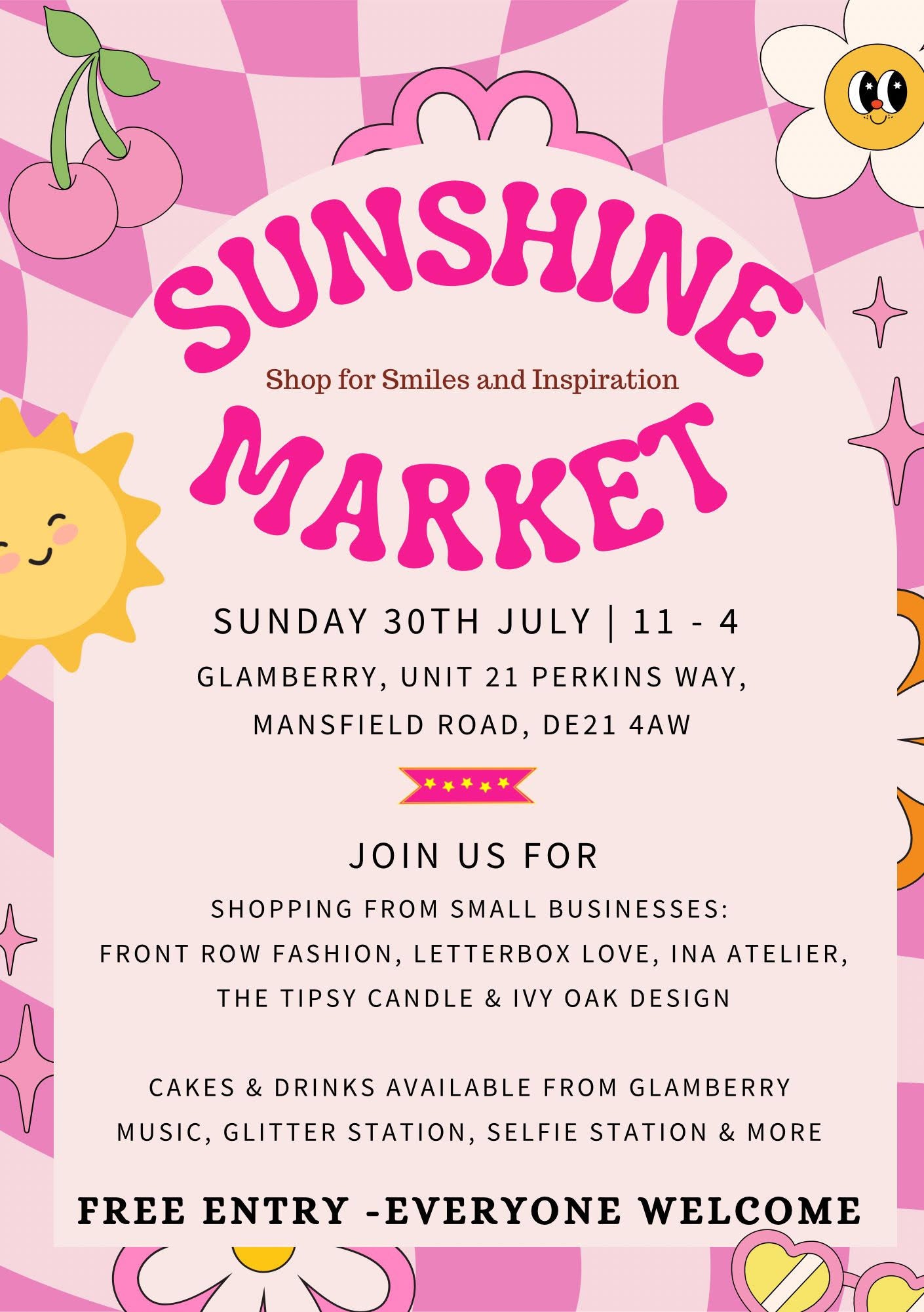 The Sunshine Market: A Celebration of Derby's Spirited Female Entrepreneurs
Summer is in full swing, and it's time to embrace those radiant vibes at the upcoming Sunshine Market! We are one of the proud organisers, Letterbox Love, a local business renowned for heartfelt bracelets, the event is a festival of collaboration and community spirit that'll brighten up your day.
On the 30th of July, Glamberry at Unit 21, Perkins Way, Mansfield Road, Derby, will transform into a vibrant marketplace buzzing with creativity, camaraderie, and celebration. We've joined forces with fellow female-led businesses from across Derbyshire to curate an event that's not just a market, but a platform to celebrate entrepreneurial spirit and local talent.
Prepare yourself for an unforgettable afternoon packed with a diverse selection of stalls, each showcasing the unique charm of Derby's homegrown businesses. But that's not all – your senses are in for a treat with uplifting music setting the mood and the irresistible aroma of freshly baked cakes from the reputable Glamberry.
As you explore the variety of products, don't forget to make a pit stop at our selfie stations. We've designed them to be perfect little corners of happiness where you can capture memories of a delightful day out. And while you're there, why not pick up a piece from our latest collection to remember the day by?
Everyone is welcome to this gathering of positivity and empowerment. The Sunshine Market is not just an event - it's a testament to the inspiring women entrepreneurs of Derby, their resilience, creativity, and the beautiful products they create. The best part? Entry is absolutely free!
So, mark your calendars, Derby! Let's revel in the power of local businesses, support each other, and enjoy an afternoon of shopping, music, and delicious treats. After all, nothing can dim the light that shines from within the community, especially when we're standing together in the sunshine.
Join us for an afternoon at the Sunshine Market – where shopping local takes on a whole new glow.